Kirti Srivastava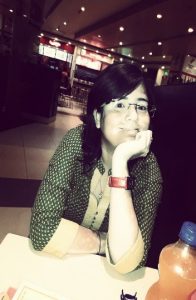 A banker by profession, and a dreamer by heart, she started writing long back with newspapers and magazines. She completed her masters in English literature in 2007.
However, this is her first stint with a thriller fiction. A girl with a different shade of brown, there lives in her an impish storyteller, who concocts colourful stories and devilish characters.
She fell in love with those paperbacks a long time ago. Her favourite authors are Sidney Sheldon, John Grisham and Dan Brown and she is highly inspired by the stalwarts. She met with an accident and fractured both her legs. While she was bed ridden for 5 weeks, she started writing her novel, 'The Me You Will Never Know', a psychological thriller. Cynthia Marcel, Sophia Carmine and Sister Alexis are three different ladies with different needs and different values. Born and bred in cities, miles apart from each other, they have a common link. All the three have a dark past.
A past that is well hidden in their hearts.
Five murders in different countries bring them together.
The three embark on a journey of stunning revelations and dangerous secrets.
It is a story of guilt, shame, revenge and mind games.
A thriller which will keep the readers at the edge of their imagination. Her second novel has already been sent to the publishers.
The 'Vit Girl', as she calls herself is here to stay. She plans to write many more fascinating novels for her readers.
We wish her all the best for her future endeavours.